Hi Tanya, thanks for having me over. I'm excited to share some of my writing music with you.
I rarely listen to music while I write fiction, but I almost always
use music to prepare myself for writing. When I'm researching or taking a Twitter break, I choose music based on the mood of the next scene I plan to write. It helps set the mood. So, if I'm writing a cute first meeting between my main characters I'll listen to a couple of light and cheery songs like With A Girl Like You by The Troggs or Enchanted by Taylor Swift. If I'm rearing up for some angst and unrequited love, it's time for Rolling in the Deep from Adele or White Blank Page by Mumford and Sons. When things start to heat up, I'll give Bruno Mars' Our First Time a play or maybe Shiver, Shiver by Walk the Moon.
Ana Blaze's Current Getting in the Mood Playlist
A Thousand Years- Christina Perri
Just a Kiss- Lady Antebellum
I Won't Give Up- Jason Mraz
Enchanted- Taylor Swift
Glad you Came -The Wanted
White Blank Page- Mumford and Sons
Rolling In The Deep- Adele
Our First Time- Bruno Mars
Shiver, Shiver- Walk the Moon
Distance- Christina Perri
With A Girl Like You- The Troggs
Maybe I'm Amazed- Paul McCartney
I'm Yours Jason- Mraz
Poison and Wine-The Civil Wars
Radioactive-Imagine Dragons
Ho Hey- The Lumineers
Better Together Jack Johnson
Lonely Boy- The Black Keys
All Because of You- U2
Extraordinary Girl-Green Day
This Love-Maroon Five
Do you use music to set the mood with your special someone or while getting ready for a date? What's your go to tune?
The Best Man
by Ana Blaze
Beth Chase is too busy planning perfect weddings to worry about the lack of action in her own love life. But if she was looking for a man, she wouldn't be looking at Colin Pratt. Her boss swears that Best Man Colin is a quiet scholar and science fiction writer who couldn't possibly cause a fuss at his own brother's wedding. He's clearly never met the man in question. Snarky, sexy and more than a little inebriated, Colin is the final obstacle between Beth and the last perfect wedding she needs to make partner. Of course, when she helps him into a taxi at the end of the night she has no idea that he's only just begun to poke holes in her professional exterior. Colin might have the skills to seduce a romance professional, but can he convince her that he's the best man to share her happy ever after?
Ana lives just outside Washington DC with her very supportive husband and three rather demanding cats. She loves the ocean, Indian food, IKEA, and cooking. Ana admits to watching too much television and she swears that someday she's going to learn how to play the guitar resting on the bookshelf in her office.
Twitter: @ana_blaze
One lucky reader will win The Best Man ebook and a goodie pack to share with the best man or woman in their life. The pack contains candles, Godiva chocolate, Tuscan lavender soap, Sensual Massage Oil from The Body Shop and two lip treatments from The Body Shop. It will come packaged in a pretty photo box.
a Rafflecopter giveaway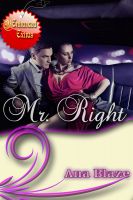 Mr. Right, a free novella by Ana Blaze, is available now at Smashwords.
http://www.smashwords.com/books/view/308639
Find out more here:
http://www.entrancedpublishing.com/readers-club-4/entranced-extras